Highlights from the SSCI Nephrology Young Investigators' Forum
The 14th Annual Southeastern Regional Nephrology Young Investigators' Forum (NYIF), sponsored by the Southern Society for Clinical Investigation (SSCI) with support from an educational donation from Amgen, Inc., was held February 25, 2015 in New Orleans, Louisiana. The NYIF served as a pre-course to the Annual Southern Regional/Southern Society for Clinical Investigation Meetings, which occurred February 26-28, 2015.
Postdoctoral fellow trainees from adult and pediatric nephrology training programs throughout the Southeast are invited to present their research at the NYIF, which continued in the pattern of previous meetings with all of the presentations representing superior quality research. This year, 17 fellows representing 8 academic medical centers in 6 states were selected to participate. In addition to the nephrology fellow presenters and the panel of 5 judges, there were a number of mentors present for the meeting. The research presentations were divided into basic and clinical research categories with the morning devoted to basic science talks and the afternoon program dedicated to clinical research presentations. All those present contributed to a lively and constructive question-and-answer session following each of the presentations.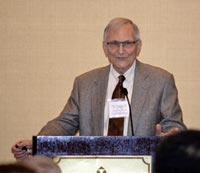 This event was initiated with a particularly excellent lecture entitled "Renal Medullary Oxidative Stress in Hypertension" delivered by Professor Allen W. Cowley from the Medical College of Wisconsin.
Subsequent presenters all performed at a very high level, and their knowledge of their area of research and the background literature was impressive. Similarly, their ability to address wide-ranging and probing questions from the audience was equally impressive. This year's program, as with past programs, continued to reflect the superior investigative talent in nephrology training programs in the Southeast.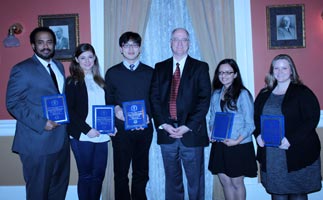 Awards
Basic Science Research Awards
1st - Ronak Lakhia, University of Texas Southwestern
2nd - Isaah Vincent, University of Virginia
3rd - Pei-Lun Chu, University of Virginia
4th - Marta Stremska, University of Virginia
5th - Brandi Wynne, Emory University
Alt. - Ravindra Boddu, University of Alabama at Birmingham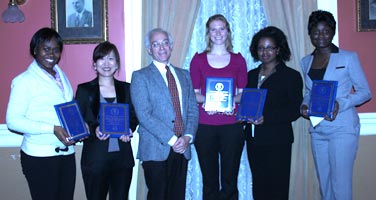 Clinical Science Research Awards
1st - Sook Park, Emory University
2nd - Caroline West, Medical University of South Carolina
3rd - Mukoso Ozieh, Medical University of South Carolina
4th - Claretha Lyas, University of Alabama at Birmingham
5th - Bolanle Omotoso, University of Virginia
Alt. - Anuj Regmi, Georgia Regents University
These winners advanced to the National Nephrology Young Investigators Forum, which is held in conjunction with the 2015 Spring National Kidney Foundation Clinical Meeting. We are pleased to recognize the following young investigators who went on to win: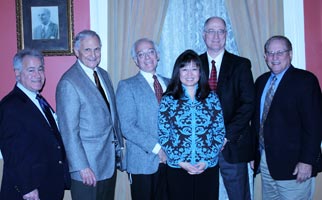 Basic Science:

1st place: Ronak Lakhia
2nd place: Pei-Lun Chu
3rd place: Brandi Wynne

Clinical Science:
The value of the NYIF for the trainees is extraordinary. This unique setting provides a forum where fellows can present original research orally to a small group of peers. This setting provides a novel, non-threatening environment for presentation and discussion for fellows and among fellows from different training programs in the region. There are no other meeting venues or environments that allow this high level of oral presentation and personal interaction for this level of training. Between and after sessions, trainees are afforded the extraordinary opportunity to interact personally with the peer group of researcher-trainees from the region; and nationally if selected to advance to the national meeting. They have the opportunity to talk with and interact with a panel of judges who comprise a group of senior nephrologists and program leaders in the Southeast. They have the opportunity to network with other trainees in the region and nationally. It should also be noted that a number of trainee presenters at earlier NYIF programs have graduated to become our new young academic faculty for a number of nephrology programs in the Southeast and elsewhere.
Many of the trainees spontaneously remarked that the meeting was a resounding success and an outstanding event for fellow participation.
Presentations
Keynote Address - Allen W. Cowley, Jr., PhD, Medical College of Wisconsin
Renal Medullary Oxidative Stress in Hypertension
Basic Science Presentations
BS-01 - Ravindra Boddu, PhD, University of Alabama at Birmingham
Leucine Rich Repeat Kinase 2 Deficiency Leads to Altered Kidney and Macrophage Homeostasis with Abnormal Hemoglobin Deposition
BS-02 - Pei-Lun Chu, MD, PhD, University of Virginia
Role of Collectrin, an X Chromosome Gene, on Blood Pressure Regulation
BS-03 - Ronak Lakhia, MD, University of Texas Southwestern
Deletion of miR-21 Attenuates Cyst Growth in a Genetic Model of Autosomal Dominant Polycystic Kidney Disease
BS-04 - Kunal K. Parekh, MD, Texas Tech University Health Sciences Center
Renoprotective Effects of Paricalcitol in Diabetic Kidney Disease
BS-05 - Colin Reily, PhD, University of Alabama at Birmingham
Abnormal STAT3 Signaling from IL-6 Exposure Enhances Production of Autoantigen in an Autoimmune Disease, IgA Nephropathy
BS-06 - Marta Stremska, University of Virginia
Cellular Mechanisms of a Novel IL233 Cytokine Therapy in Preventing AKI
BS-07 - Isaah Vincent, PhD, University of Virginia
Natural Killer Cells Regulate Renal Fibrosis after Acute Kidney Injury
BS-08 - Brandi M. Wynne, PhD, Emory University
The Sodium Chloride Cotransporter and the Epithelial Sodium Channel Interact within the Distal Convoluted Tubule, and is Modulated via Serum Glucocorticoid Regulated Kinase-1
Clinical Science Presentations
CR-01 - Noble Iwuagwu, MD, Georgia Regents University
Risk Factors for Death from Peritonitis in Hospitalized Peritoneal Dialysis Patients
CR-02 - Claretha Lyas, MD, University of Alabama at Birmingham
Associations of Socioeconomic Status with Markers of Mineral Metabolism in Community-Dwelling Adults
CR-03 - Osita W. Okechukwu, MD, University of Tennessee Health Science Center
Adherence to Anti-Hypertensive Drugs and 1-Year Hospitalizations in a Cohort of Prevalent Hemodialysis Patients
CR-04 - Bolanle A. Omotoso, MBChB, University of Virginia
Dialysis Requirement and Long-Term Major Adverse Cardiovascular Events (MACE) in Hospital Acquired Acute Kidney Injury (AKI) – A Propensity-Matched Cohort Study
CR-05 - Mukoso N. Ozieh, MD, Medical University of South Carolina
Trend of Health Care Expenditure in United States Adults with CKD: 2002-2011
CR-06 - Vishal B. Parekh, MD, Emory University
Peritonitis Incidence Rates at a Major Inner City Peritoneal Dialysis Center
CR-07 - Sook H. Park, MD, Emory University
Intradialytic Hypertension: Role of Sympathetic Nervous System Overactivation
CR-08 - Anju Regmi, MD, Georgia Regents University
Quality Improvement Process and Fellow Education Improves Referral Rates for Transplant and Dialysis Access
CR-09 - Caroline West, MD, Medical University of South Carolina
Developing a Screening Algorithm for Diagnosing Type II Diabetes Mellitus in the Resource-Limited Setting of Rural Tanzania