The Tinsley Harrison Award
Each year, the Tinsley Harrison Award is presented to the author of the best article published in The Amercian Journal of the Medical Sciences in the preceeding year. We thank our publisher, Lippincott, Williams, Wilkins/Wolters Kluwer Health, for their generous sponsorship of this annual award.
Current Tinsley Harrison Award Winner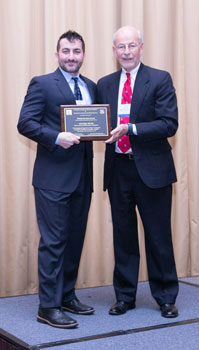 The 2017 Tinsley Harrison Award was presented to Dr. Ihab Hajjar from Emory University for his manuscript entitled "Circulating Progenitor Cells Linked to Lower Cognitive Decline in Healthy Individuals".
Past Tinsley Harrison Award Recipients
2016 - Kayoko Miyata, PhD – Tulane University School of Medicine
2015 - Stephanie DeLoach, MD - Thomas Jefferson University
2014 - Ravindra Bhardwaj, MD - West Virginia University School of Medicine
2013 - Viranuj Sueblinvong, MD - Emory University School of Medicine
2010 - Paul Muntner, PhD - University of Alabama Birmingham
2009 - Ephrain Reisin, MD - Louisiana State University Health Sciences Center
2008 - Kantima Phisitkul, MD - Texas Tech University Health Science Center
2007 - Vijaya Juturu, PhD - Nutrition 21, Inc.
2006 - Rami N. Khousam, MD - University of Tennessee Health Science Center
2005 - Temduang Chuahirun, MD - Texas Tech University Health Science Center
2004 - Sharon R. Inman, PhD - Ohio University College of Osteopathic Medicine
2003 - Siddhartha S. Ghosh, PhD - Virginia Commonwealth University
2002 - Gregory Engel, MD - Stanford University School of Medicine
2001 - Marc C. Daniels, PhD - Montgomery Veterans Administration Medical Center